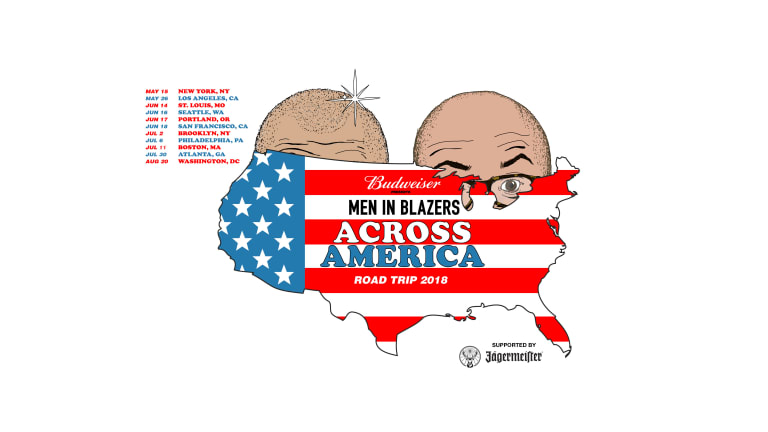 #MiBAcrossAmerica: Road Trip 2018 Tickets
America! A World Cup is a moment in life to be savored. To come together and raise a glass to every new hero, villain, and freshly-minted neck tattoo that we learn to love through the month that is Russia 2018. We are elated to celebrate the game we love in the country we adore, by going coast to coast across this nation, taping a series live shows in which we discuss the daily narrative unspooling from the world's best-rated Telenovela. Come join us and our very special guests and, for one night, it will feel like you are actually at the tournament (minus the Cossacks) for an evening of riotous wonder, beer, football jerseys, and pies. 
May 15 - New York, NY - Highline Ballroom - SOLD OUT
May 26 - Los Angeles, CA - The Ace Hotel Downtown LA 
June 14 - Saint Louis, MO - Delmar Hall - SOLD OUT
June 16 - Seattle, WA - Showbox SoDo - SOLD OUT 
June 17 - Portland, OR - McMenamins Crystal Ballroom - SOLD OUT
June 18 - San Francisco, CA - The Regency Ballroom - SOLD OUT
July 2 - Brooklyn, NY - The Music Hall of Williamsburg - SOLD OUT
July 6 - Philadelphia, PA - Theatre of Living Arts - SOLD OUT
July 11 - Boston, MA - The Sinclair - SOLD OUT
July 15 - New York, NY - Budweiser FIFA World Cup Final Viewing Experience - The Altman Building - SOLD OUT
July 30 - Atlanta, GA - MLS All-Star Show - Tabernacle - SOLD OUT
Aug. 20 - Washington, DC - DETAILS COMING SOON
Ticket info for all remaining dates is forthcoming. Watch our social for more.
*Show is 21+
**Show is 16+